Home
The Creations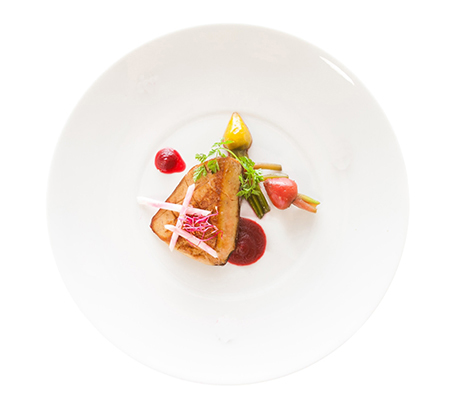 Warm foie gras cutlet and beetroots
Yoann Wojnarowicz
Executive Chef
PONTHIER beetroot puree
Butter
Salt
Freshly ground white pepper
Cook the PONTHIER beetroot puree on medium heat for about 15 minutes (the puree should become more intense in colour and less watery). Season with salt and white pepper, add a bit of butter, then mix if the consistency isn't uniform.
Baby golden beetroots
Baby Chioggia beetroots
Poultry stock
Olive oil
Peel the baby golden beetroots and the baby Chioggia beetroots, blanch them for 2 minutes, then glaze them in the poultry stock and olive oil.
Slice cutlets of foie gras and saute them dry in a hot frying pan, seasoning both sides with salt and pepper.
Assembly
Present 2 baby golden beetroots and 2 baby Chioggia beetroots and the cooked beetroot puree. Place the fried foie gras cutlet on the beetroot puree. Optional: add a gastrique-based sauce enhanced with a PONTHIER orange puree and duck drippings.