Home
The Creations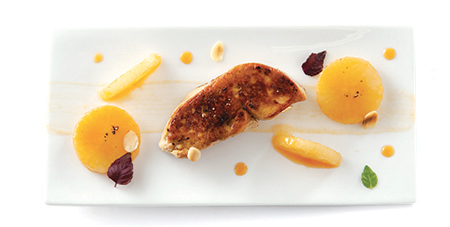 Pan-fried foie gras, turnip candied with Bergeron apricot
Foie gras escalope
Long turnip
Honey
PONTHIER apricot purée
Almond flakes
Salt
Pepper
Cut the long turnip in 3 slices 5mm thick then use a 50 diameter cutter to make circles. Caramelise the honey in a frying pan. Add the turnip slices and coat them in the honey, then deglaze with the PONTHIER apricot puree. Leave on the heat to simmer until candied.
Roast the almonds.
Brown the foie gras in a pan then roast in the oven to finish at 200°C for around 8 minutes. Season then arrange the escalope in the centre of the plate on top of a stripe of honey/apricot. Garnish with the candied turnips and sprinkle the almonds on top.
Assembly
Glaze the foie gras escalope with a little of the honey/apricot mix then grill for a few seconds under the salamander.