Home
The Creations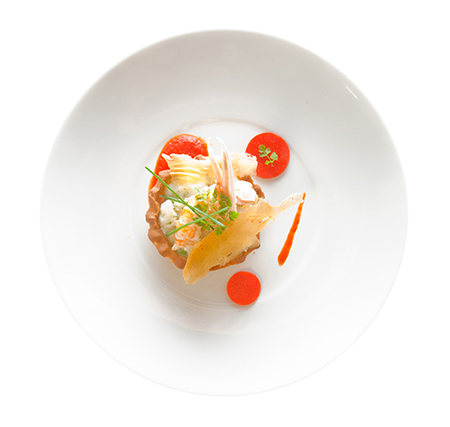 Red pepper brandade tartlets, langoustines and red pepper coulis
Yoann Wojnarowicz
Executive Chef
Potatoes
Cod
Clove of garlic
Shallots
Olive oil
Whole milk
Water
Freshly ground pepper
Red peppers
Bunch of fresh chervil
Bunch of fresh parsley
Bunch of fresh chives
500g
500g
1
4
15ml
1,5l
300ml
SQ
2
½
½
½
Soak the cod in cold water, replacing the water several times, then poach it twice. As soon as the water reaches boiling point, pour it out, put back on to cook for about 10 minutes starting with cold water counting from a slow and moderate boil). When the fish is cooked, flake it with your finger, and remove the bones still in it. Cook the potatoes in unsalted boiling milk and water (starting from cold). Sweat the shallots and smashed garlic in olive oil without browning them. Add the pieces of cod and continue to break them up with the spatula. Carefully add the cod to the potatoes, stirring with a spatula over low heat. Smooth with spatula. When the potatoes are cooked, remove from the heat and embellish the brandade with diced red pepper made to sweat in olive oil, and with a mix of fresh minced herbs.
PONTHIER red pepper puree
Agar
Bring 200g of the PONTHIER red pepper puree to the boil. While over the heat, add the agar and mix until uniform consistency. Add the remaining red pepper puree and mix vigorously. Pour it into a tray on a Silpat (should be around 3-4mm thick).
Flour
Butter
Sugar
Egg yolk
Water
Salt
Whisk together the egg yolks with sugar until light and foamy, and add water to make creamy. On your workspace, place the flour. Add the butter cut up into small cubes and salt on top of it. Knead together until it is all mixed. Form a ball and let it rest for 12 hours in the refrigerator. Precook in tartlet moulds.
PONTHIER red pepper puree
Garlic clove
Sugar
Reduce the PONTHIER red pepper puree in a saucepan for 8-10 minutes with the sugar and garlic clove. Strain and keep warm.
Assembly
Shell the langoustines, taking care to keep the last ring and tail intact. Remove the shell and reserve. Reserve one of the langoustine's two pincers. Fill the warm brandade tartlet, saute the langoustine with its pincer in olive oil, season it with fleur de sel and white pepper. Present the langoustine in the centre of the tartlet, add the red pepper coulis and decorate with disks of lightly cooled red pepper jelly.