Home
The Creations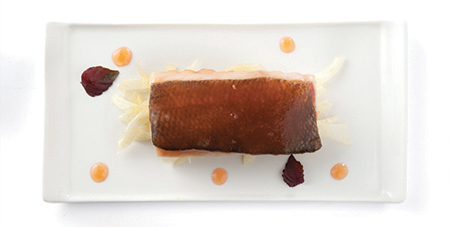 Line-caught bass steamed and glazed with watermelon
Thick fillet of line-caught bass
PONTHIER watermelon purée
Campari
Cornflour
Fennel
Lemon
Water
Coriander seeds
Olive oil
Garlic, thyme, bay leaf
Salt
Pepper
140 g
50g + 50g
1cl
2g
¼
1
20cl
5g
SQ
SQ
SQ
SQ
Finely crush half the coriander seeds. Finely chop the fennel then season with lemon juice, olive oil, crushed coriander seeds, salt and pepper. Leave to marinate for around 20 minutes. Bring 50g of PONTHIER watermelon purée to the boil and thicken with cornflour. Take it off the heat and when it has cooled to warm, add the Campari.
In a steamer, put 50g PONTHIER watermelon purée, water, the remaining coriander seeds, garlic, thyme and bay. Add a rack then start boiling. Season the bass fillet and place it on the rack. Cover, turn the heat off and leave to cook for around 10 minutes. Then cover the bass fillet with the watermelon / Campari glaze. Arrange the marinated fennel in the middle of the plate then place the bass fillet on top and season with pepper.
Assembly
The Campari is not essential but adds a subtle bitterness to the dish.