Home
The Creations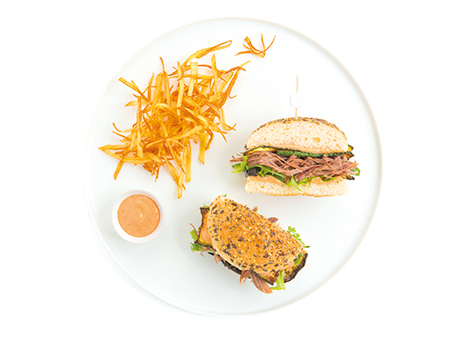 Red pepper duck burger
Cream cheese (Philadelphia)
PONTHIER red pepper purée
Espelette chilli pepper
Salt
Mix the cream cheese, PONTHIER red pepper purée and the Espelette chilli pepper together and add salt.
Burger buns
Confit duck legs
Courgette
Aubergine
Shallots
Lettuce
Olive oil
Salt, pepper
Roughly chop the lettuce. Chop the courgette and aubergine into 3 mm slices and fry them in olive oil. Slice the shallots and pull apart the confit duck legs. Sweat the shallots in a pan with olive oil and brown the duck meat. Season and shape into a circle (to the same diameter as the burger bun).
Assembly
Reheat the duck in the oven. Toast the burger buns. Spread the sauce on the top and bottom bun halves. Assemble the burger by layering some salad, a slice of courgette, a slice of aubergine, the duck and then finish with a slice of courgette, a slice of aubergine, the salad and then the top half of the bun. Gently squeeze it all together and serve with skinny fries and a green salad.

For a Provençal version, replace the PONTHIER red pepper purée with PONTHIER tomato purée and the confit duck legs with minced beef with olives and basil.