Home
The Creations

PGI Menton Lemon (Crushed)
PGI Corsican Clementine (Crushed)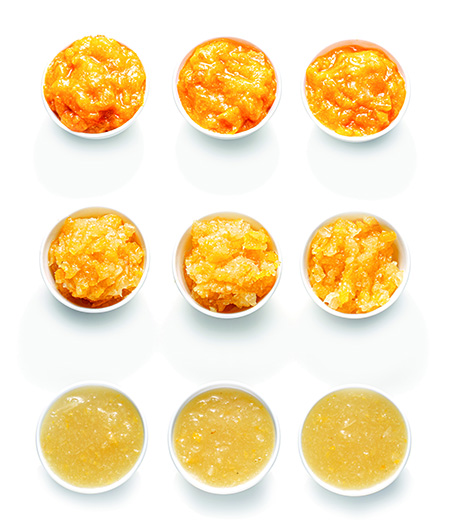 Citrus confits
Philippe Urweiller
Pastry chef and chocolate maker
INGREDIUM Gelatin F (fish gelatine)
Mineral water
Bring the water to a simmer before pouring over the INGREDIUM Gelatin F in a mixing bowl. Whisk, then pour into a candissoire and store in a cold room at 4°C for 8 hours covered with cling film.
PONTHIER PGI Menton Lemon Crush
or PONTHIER PGI Corsican Clementine Crush
or PONTHIER 100% Yuzu Crush
Heat the PONTHIER crush and gelatin mass to 50°C separately in the microwave. Mix the melted gelatine mass with the crush. Leave to set slightly in the fridge and use in a piping bag. Spread the resulting confit to the desired thickness depending on use.
After cooling, cut into squares, for example, to make a macaron filling.