Home
The Creations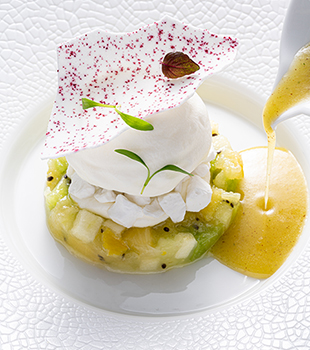 Plated dessert with PGI Adour Kiwi
Julien Alvarez
Pastry World Champion 2011
PONTHIER Granny Smith apple purée
Sugar
INGREDIUM agar
Bring all the ingredients to the boil and store in the fridge. When completely cold, mix until a creamy texture. Set aside in a pipping bag for garnish preparation.
KIWI AND CORIANDER SORBET
PONTHIER PGI Adour Kiwi 100% purée
INGREDIUM ascorbic acid Ascorbix
INGREDIUM dextrose
INGREDIUM glucose P
INGREDIUM sorbet stabilizer Sorbium
Water
Coriander leaf
Lime zests
600g
2g
50g
10g
2g
100g
2g
1,5
Mix the powders together. Add in the water and bring to the boil. Once it is cold, pour over the PONTHIER PONTHIER PGI Kiwi from Adour purée and the coriander leaves. Block on the blast chiller and turn in the Pacojet twice.
Milk
Caster sugar
Gelatin mass with gelatin F (fish) INGREDIUM
PONTHIER intense coconut purée
Fat cream 35% M.G
Malibu
120g
60g
8g
200g
333g
40g
Heat the milk and the sugar. Once it is boiling, add the gelatin mass. Pour over the rest of the ingredients. Mix and store at 4°C. Put in a siphon with 2 gas cartridges.
Egg whites
Icing sugar
PURE EMOTION blackcurrant powder
Whisk slightly the egg whites with the icing sugar. Spread thinly with a PCB CREATION stencil. Powder slightly the PURE EMOTION blackcurrant powder. Curve it in a pastry gutter and let it dry in a proofer.
KIWI BRUNOISE (SMALL DICES)
Yellow kiwi
Green kiwi
Cucumber
Granny Smith apple
PONTHIER lime zests
Ginger zests
PONTHIER crushed Menton Lemon PGI
Olive oil
Green apple gel
45g
45g
15g
15g
3g
0,3g
15g
SQ
7g
Cut the fruits, season and serve chilled.
Drain the yoghurt for 1h minimum on tork paper. Store in a pipping bag for the assembly.
PONTHIER PGI Adour kiwi 100% purée
Olive oil
INGREDIUM xanthan
Filter the PONTHIER PGI Adour 100% purée and blend. Serve chilled.
PCB CREATION crispy coco
Purple shiso
Cress coriander
In an 8,5cm diameter circle, put the kiwi brunoise on 1cm height. Add a little bit of drained yoghurt in the middle. Add some PCB CREATION crispy coco on the yoghurt. Remove the circle. Put a half scoop of sorbet. Use the coconut siphon to cover the sorbet. Add some icing sugar fragments. Add some cress coriander leaves and purple shiso. Serve with the kiwi dressing.