Home
The Creations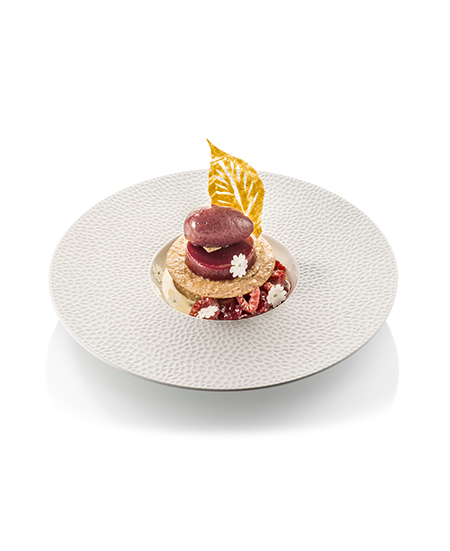 Raspberry verbena plated dessert
Etienne Leroy
World Pastry Champion 2017
Mix together the butter and the flour. Roll out to form a square. Set to one side.
T55 flour
Melted butter
Water
Salt
Mix together without kneading the flour, melted butter, salt and gradually add the water. Roll out into a square slightly smaller than Détrempe 1. Put in the fridge. Butter and fold with 6 single turns.
Brown butter
Caster sugar
Icing sugar
as much as needed
as much as needed
as much as needed
Roll out the puff pastry to 1.2mm thickness. Brush with cold brown butter, then sprinkle with caster sugar. Roll up as tightly as possible. Set to one side. Cut into slices and roll them out as thinly as possible on a surface heavily dusted with icing sugar. Bake for 13 minutes at 180°C between 2 baking sheets. Remove from the oven and cut into 9cm diameter discs. To make the leaves, roll slices out on a surface heavily dusted with icing sugar. Freeze. Cut out leaves with a scalpel and nibble them to create the veins. Bake for 13 minutes at 180°C.
PONTHIER Noir de Bourgogne Blackcurrant purée
PONTHIER France Raspberry purée
INGREDIUM Dehydrated Glucose Syrup
INGREDIUM Sorbium Stabiliser
Caster sugar
Water
50g
310g
57g
2g
107g
180g
Bring the water to a simmer and add the powders. Develop for 24 hours and add the PONTHIER France Raspberry Purée. Mix, pour into a Pacojet bowl and freeze. Pacotise before serving.
T45 flour
Salt
Caster sugar
Fresh yeast
Whole egg
Whole milk
Butter
500g
10g
60g
20g
250g
25g
200g
Mix the T45 flour, salt, sugar, fresh yeast, whole eggs and whole milk in a mixer fitted with a dough hook. Knead for 5 minutes at speed 1. When it detaches from the bowl, incorporate the cold butter. Knead for a further 10 minutes on speed 2 until the dough is smooth and pulls away from the sides of the bowl. Leave to point for 30 minutes at room temperature and give it a flap. Set aside overnight at 2°C. The next day, weigh out 40g per plate. Round twice at 15-minute intervals. Roll out and place on a baking mat in buttered 7 cm circles. Leave to proof for 2 hours at 25°C. Cover with a baking mat and rack. Bake at 160°C for 20 minutes. Cool on a wire rack, then slice the brioche to a 2cm thickness.
Whole milk
Fresh verbena
Sugar
Vanilla pod
PONTHIER Lemon zest
Egg yolks
Heat and infuse the whole milk with the lemon zest, vanilla and fresh verbena leaves for 20 minutes, then strain. Beat the egg yolks with the caster sugar. Boil the whole milk and pour over the beaten egg yolks and sugar. Cool to 4°C.
PONTHIER France Raspberry purée
PONTHIER IQF Broken Raspberries
Invert sugar
Caster sugar
INGREDIUM Pectin NHX
Gelatin mass made with INGREDIUM Gelatin F (fish)
PONTHIER Lemon purée
Raspberry liquor
120g
59g
36g
12g
4g
16g
3g
6g
Heat the PONTHIER France Raspberry Purée in a saucepan with the PONTHIER IQF Broken Raspberries and the invert sugar. Add the caster sugar and pectin NHX. Bring to the boil for 1 minute. Add the gelatine mass, the PONTHIER Lemon Purée and the raspberry liquor. Using a piston funnel, pour 25g into a 6cm diameter silicone Palet mould. Freeze. Turn out of the mould and set aside at 4°C for plating. Store 15g of the compote in a container for plating.
Place the PONTHIER IQF raspberries in a bowl and cover tightly in cling film. Cook in the microwave or in a bain-marie to extract the raspberry juice. Strain without whisking to keep the juice translucent.
RASPBERRY JUICE FLAVOURED WITH VERBENA
Raspberry juice
Fresh verbena
Infuse the raspberry juice with the verbena. Strain.
ASSEMBLY AND FINISHING TOUCHES
Raspberry compote
Fresh raspberries
PCB CREATION dried white verbena flowers
90g
as many as needed
as many as needed
Dip the brioche discs in the eggnog. Fry in a hot buttered pan. Place the brioche in the bottom of a soup plate and generously pour eggnog over it. Crush a few fresh raspberries and bind with 15g of raspberry compote. Arrange on the side of the brioche in the bottom of the plate. Place an Arlette biscuit disc on the brioche. Add the raspberry compote Palet. Arrange a large quenelle of raspberry sorbet, stick an Arlette leaf in it. Decorate with PCB CREATION dried verbena flowers. Serve with the raspberry and verbena juice in a sauce boat.