Home
The Creations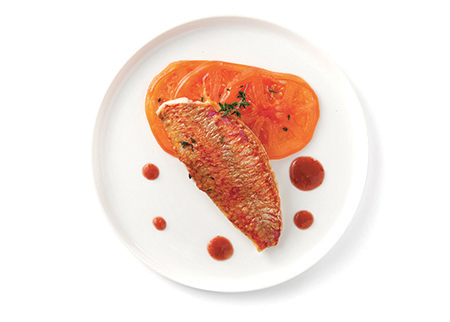 Fillet of red mullet meunière with violet fig
Red mullet fillet
Beefsteak tomato
Sprigs wild thyme
Butter
PONTHIER fig puree
Lemon
Olive oil
Salt
Pepper
3/400
1
2
20g
50g
1
SQ
SQ
SQ
Cut the tomato in 2mm slices then pour on olive oil and season with lemon zest and wild thyme leaves. Leave to marinate for at least 5 minutes. Drain the tomato slices then layer them as a tian and put to one side.
Remove any bones from the red mullet fillet, season with salt then fry in olive oil skin side down. Just before turning the fish, add the butter and a sprig of wild thyme.
Baste in the pan for 10 seconds. Add lemon juice and then the PONTHIER fig purée. Finish cooking off the heat by basting the fillets. Check the seasoning of the fig sauce, adding a little pepper.
Grill the tomatoes under the salamander for a few seconds to warm through. Arrange the red mullet fillet on the plate then add the sauce.
Assembly
Add PONTHIER fig purée to the tomato marinade.