Home
The Creations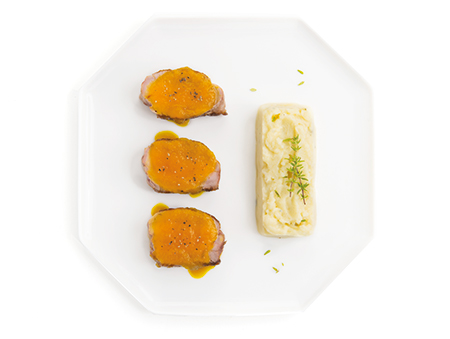 Tenderloin glazed with yellow pepper
Potatoes
Olive oil
Thyme, bay leaf
Salt, pepper
Peel and rinse the potatoes. Cook them in water with the thyme and the bay leaf. Remove the skins, mash them and beat with olive oil, then season well. Keep warm.
TENDERLOIN GLAZED WITH YELLOW PEPPER
Pork tenderloin
PONTHIER yellow pepper purée
Honey
Water
Thyme
Olive oil
Salt, pepper
Season the pork tenderloins. Brown them in olive oil, then roast them in an oven preheated at 150°C (Gas 3) for around 10 minutes. Cut them in 2. Deglaze the pan with the honey and thyme, and leave to caramelise. Add water and the PONTHIER yellow pepper purée. Allow to reduce until you have reached a syrup consistency. Season well. Pepper generously.
Assembly
Reheat the pork tenderloins in the sauce and cut into medallions. Plate next to the mashed potato and add a little sauce.

For an autumnal version, replace the pork tenderloins with slices of duck breast. For the seasoning, replace the PONTHIER yellow pepper purée with PONTHIER pumpkin purée and combine with crème fraiche, honey and Sichuan pepper.