Home
The Creations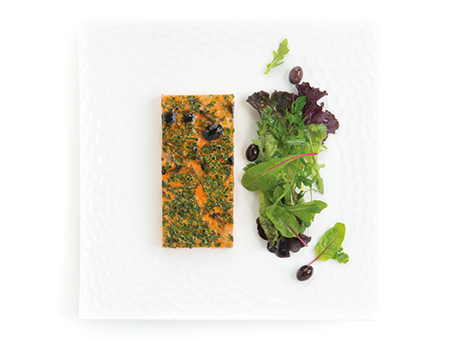 Red pepper frittata
Eggs
PONTHIER red pepper purée
Pitted black olives
A bunch of chervil (French parsley)
A bunch of chives
Olive oil
Salt, pepper
Finely chop the herbs. Whisk the eggs and add the herbs, black olives and the PONTHIER red pepper purée. Add salt and pepper. In a non-stick pan greased with olive oil, on a low heat, pour in the frittata mixture and cook in a pre-heated oven at 180°C (Gas 6) for around 15 minutes (the top of the omelette must be cooked).
Assembly
Remove the pan from the oven and cut the frittata into 4 portions. Serve hot or cold, and with a mixed salad.

Try an alternative by using PONTHIER beetroot purée. To do so, for example, replace the herbs with mint and the olives with blanched peas.