Home
The Creations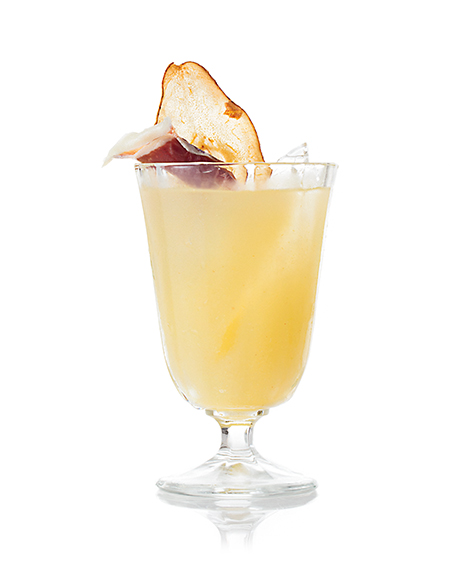 Negra Pear
Stanislas Jouenne
Executive Bar ChefTrophées du Bar winner 2016
PONTHIER pear purée
BOMBAY SAPPHIRE gin
White Vermouth
Gentiane liqueur
Palomino Fino Tio Pepe sherry
Salted and smoked agave syrup
Ice (cubes for the shaker, block for the glass)
5,5cl
4cl
1cl
1cl
1,5cl
0,3cl
SQ
Decoration: sliced dried pear, sliced Pata Negra ham
Pour all the ingredients into a shaker full of ice. Shake vigorously and filter through a strainer into a low tulip glass containing a block of ice. Decorate with a slice of dried pear and a thin, rolled slice of Pata Negra ham.
Salted and smoked agave syrup: put 3g of smoked salt and 180g of boiling water in a jug. Stir until the salt has dissolved. Mix 120g of agave syrup with 6cl of the salted water.

BOMBAY SAPPHIRE gin infusion with Pata Negra ham: infuse 5 slices of Pata Negra ham in the bottle of gin over night. Filter through a chinois and keep the 5 ham slices for decoration. Filter again through a paper coffee filter.