Home
The Creations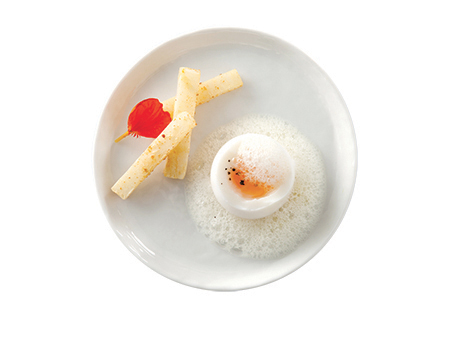 Soft-boiled egg, celeriac and Granny Smith green apple soldiers, foam
Organic egg
Celeriac
PONTHIER green apple purée
Cream
Milk
Butter
Salt
Pepper
1
100g
100g + 30g
2cl
5cl
20g
SQ
SQ
Soft-boil the egg then remove the shell. Cut the base slightly so it sits flat, then remove the top to reveal the yolk.
Heat 100g PONTHIER green apple purée with the cream, the milk and 5g butter. Cut the celeriac into sticks 5cm long and 0.5cm wide. Heat the rest of the butter in a pan to a foam then season with salt and confit the celeriac soldiers. Add 30g of PONTHIER green apple purée and cook for around 4 to 5 minutes (the celeriac should still be crunchy).
Using a hand blender, emulsify the PONTHIER green apple purée to make a foam. Place the foam on one side of the plate and the celeriac soldiers on the other. Delicately place the egg on the foam and season with pepper. Finally, place a little foam on top of the egg.
Assembly
Celeriac soldiers can also be directly cooked in the PONTHIER green apple purée.