Home
The Creations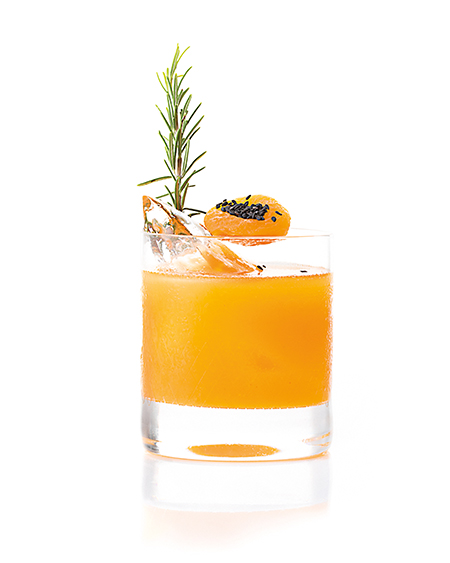 Pump My Abricot
Stanislas Jouenne
Executive Bar ChefTrophées du Bar winner 2016
PONTHIER apricot purée
TANQUERAY gin
SUZE Originale
Salted agave syrup
Ginger Beer
Ice (cubes for the shaker, block for the glass)
6cl
4cl
0,5cl
0,6cl
SQ
SQ
Decoration: rosemary twig, dried apricot, chia seeds
Pour all the ingredients into a shaker full of ice. Shake vigorously and filter through a strainer into an Old Fashioned glass containing a block of ice shaped like an obelisk. Decorate with a rosemary twig, a dried apricot and chia seeds.
Salted and smoked agave syrup: put 3g of smoked salt and 180g of boiling water in a jug. Stir until the salt has dissolved. Mix 120g of agave syrup with 6cl of the salted water.

Suze "à la Binbin" infusion: add one rosemary twig to 18cl of Suze. Vacuum seal and cook at 60°C for 1h30 or put in a firmly closed bottle and put through the dishwasher.