Home
The Creations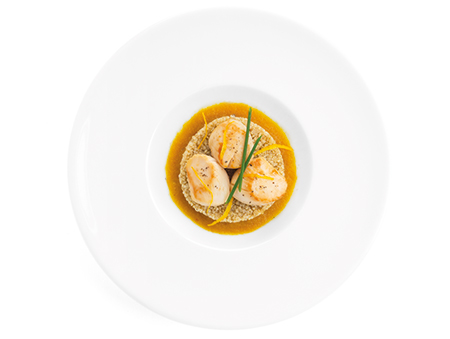 Scallops, orange and yellow pepper
Cook the quinoa in a large quantity of salted water. Drain and add the butter. Adjust seasoning and keep warm.
Large scallops
Oranges
PONTHIER yellow pepper purée
Olive oil
Fleur de salt, pepper
Remove the orange skin and cut into a fine julienne (thin strips). Blanch the julienne three times and reserve. Squeeze the orange juice, strain it and reserve. Just before serving, sear the scallops in olive oil, deglaze them with the orange juice and add the PONTHIER yellow pepper purée. Bring to a boil and turn off the heat.
Assembly
Pour some of the stock into a soup plate. Arrange the quinoa in a circle in the centre and place 3 scallops on top. Season with the fleur de sel salt and the pepper and add some of the orange zest.

When the scallop season is over, you could replace them with langoustines or prawns and replace the PONTHIER yellow pepper purée with PONTHIER red pepper purée.