Home
The Creations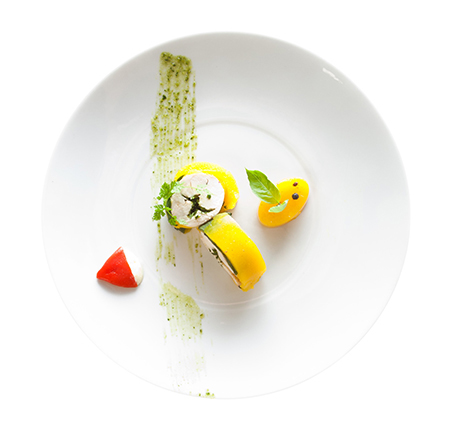 Chicken breasts with herbs, yellow pepper jelly with tarragon
Yoann Wojnarowicz
Executive Chef
CHICKEN BREASTS WITH HERBS
Bunch of fresh tarragon
Bunch of fresh chervil
Fresh basil leaves
Chicken breasts
Salt
Pepper
Chop the tarragon and chervil together. Remove the skin from the three chicken breasts. On the skinned side, make a cut the length of the breast for the tarragon and chervil mixture. Season and roll into a paper film casing, then poach in water 65 °C until the breasts reach 63 °C in the centre. Cool, then wrap the chicken in the basil leaves, roll in paper film and put in freezer for a few minutes.
PONTHIER yellow pepper puree
Gelatine
Fresh tarragon leaves
Sugar
Fine salt
Freshly ground white pepper
Remove a third from the PONTHIER yellow pepper puree, and bring the other 2/3 to boil with the tarragon leaves. Cook for 2 minutes, pull out the tarragon, and add the softened gelatine. Lightly sugar and season with fine salt and white pepper.
In a small half-cylinder mould, pour the yellow pepper jelly 1cm thick and put it in the freezer. Place the chicken in the middle and cover with yellow pepper jelly.
Fresh goat cheese
Single cream (35% fat)
PONTHIER yellow pepper puree
Piquillo peppers
Whisk together the fresh goat cheese with the single cream. Add the PONTHIER yellow pepper puree. Stuff the peppers using an icing bag.
Assembly
Carefully unmould the poultry breasts and cut 4 generous slices per breast. Use a brush to decorate the plate with a bit of pistou soup. Place 2 pieces of chicken and 1 stuffed pepper on it.