Home
The Creations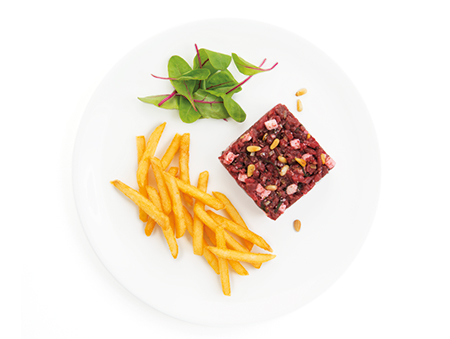 Beef and beetroot tartar
Fillet of beef
PONTHIER beetroot purée
Brousse cheese (or Brucciu)
Spring onions
Pine nuts
A bunch of sage
Olive oil
Salt, pepper
400g
150g
200g
6
50g
1
4cl
SQ
Drain the Brousse cheese. Finely chop the spring onions and sage. In a pan, without any fat, roast the pine nuts and allow to cool. Carve the beef into tartar slices and chop the Brousse cheese into 3 mm cubes. When assembling, mix the beef, the PONTHIER beetroot purée, the pine nuts, the spring onions and the sage together. Add olive oil, salt and pepper, and then gently add the Brousse cheese.
Assembly
Assemble in a circle on the plate and serve with chips and/or salad.

The PONTHIER beetroot purée would also work well with salmon tartar. For this, add dices of Granny Smith apple, some lime juice and some flaked almonds.