Home
The Creations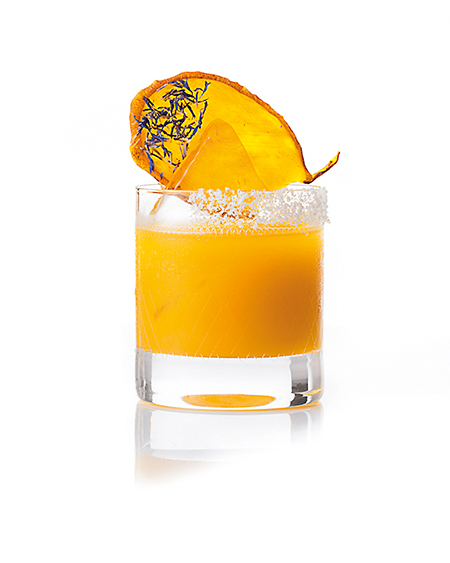 Aamchor
Stanislas Jouenne
Executive Bar ChefTrophées du Bar winner 2016
PONTHIER mango purée
PONTHIER lime purée
BOMBAY SAPPHIRE gin
Coconut water
Alsace eau de vie - Marc de Gewurztraminer
Salted and smoked agave syrup
Ice (cubes for the shaker, block for the glass)
4cl
1,25cl
4cl
4cl
1cl
0,7cl
SQ
Decoration: sliced dried mango, cornflowers
Pour all the ingredients into a shaker full of ice. Shake vigorously and filter through a strainer into an Old Fashioned glass with a rim of coconut powder and a block of ice cut in the shape of an obelisk. Decorate with a slice of dried mango and sprinkle with cornflowers.
Salted and smoked agave syrup: put 3g of smoked salt and 180g of boiling water in a jug. Stir until the salt has dissolved. Mix 120g of agave syrup with 6cl of the salted water.

Sticking cornflowers: agave syrup is very dense and almost transparent. Brush a little onto the section concerned then stick the little flowers to it.