Home
The Creations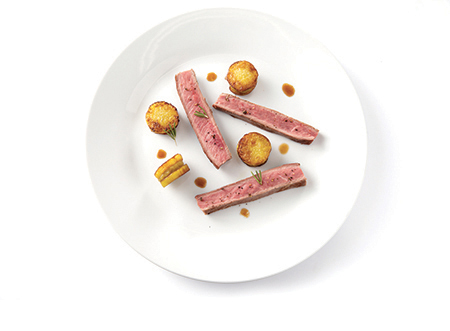 Lamb marinated in pink grapefruit and rosemary
Lamb fillet
PONTHIER pink grapefruit purée
Sprig rosemary
Aubergines
Turmeric
Lemon
Clove of garlic
Lamb jus
Thyme
Bay
Olive oil
Salt
Pepper
140g
100g + 5g
1
2
3g
1
1
5cl
SQ
SQ
SQ
SQ
SQ
Peel the aubergines, cut 8 slices, use a 4cm cutter to make 8 circles. Shallow fry in olive oil. Drain on paper towelling and put to one side. Dice the rest of the aubergines, put in a saucepan, half-fill with water and cook for around 20 minutes. Drain and blend well. Add the lemon juice, chopped garlic, turmeric and salt. Dry out then put in a piping bag. Pipe the aubergine caviar on the 4 fried slices and top with the 4 remaining slices to make aubergine macaroons. Season the lamb fillet with salt then seal in a pan with olive oil. Remove from the pan. Pour off any fat then deglaze with 100g of PONTHIER pink grapefruit purée. Add the sprig of rosemary. Reduce by a third then pour over the lamb fillet and roast with thyme and bay for 40 minutes at 65°C. Slice into 3 medallions.
Add 5g of PONTHIER pink grapefruit purée to the lamb jus and reduce by a third. Arrange the lamb slices on the plate then garnish with the aubergine macaroons. Add a stroke of sauce, season with pepper.
Assembly
Cook the lamb fillet in a water bath with PONTHIER pink grapefruit purée to strengthen the flavour.