Home
The Creations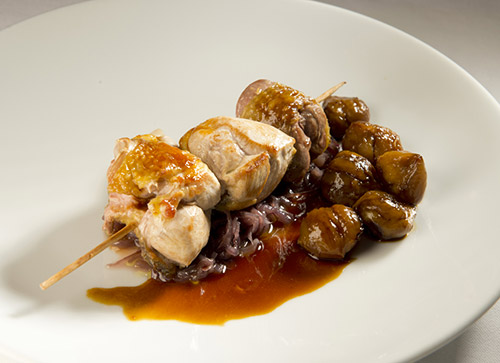 Guinea fowl kebab with chestnuts, red onion chutney
Oignons rouges
Huile d'olive
Peel the onions and slice them very thinly. Heat up some olive oil in a small cast iron pan. Sweat the onions for 2 to 3 minutes, stirring continuously. Complete cooking with the lid on, after reducing the heat to very low for 30 minutes, from time to time pouring the steam over them that has condensed on the inside of the pan lid and stirring.
GUINEA FOWL AND THE CHESTNUTS
Farm-raised guinea fowl
PONTHIER cooked chestnuts
Orange juice
Picon® bitters
Butter
Olive oil
Extra fine sea salt
Freshly ground pepper
1
400g
14cl
10cl
30g
SQ
SQ
SQ
Cut the breast and fatty part of legs, after removing the bones, each into three evenly sized pieces. Place them on kebabs in threes (combining white and red meat). Season with extra fine sea salt and freshly ground pepper. In a cast iron dish or pan brown the kebabs on all sides, using olive oil, then place in the oven, heated to 180°C, for 12 minutes. Reheat the onion chutney whilst the meat is cooking. Keep the kebabs hot. Use the Picon® to soak up the juices from the pan and add the orange juice. Place the PONTHIER cooked chestnuts in the juice and reduce to coating consistency. Bind the sauce by incorporating the butter cut into small pieces.
Place the onion chutney in the centre of the plates, lay the kebabs on top and complete by adding the chestnuts and sauce.