Home
The Creations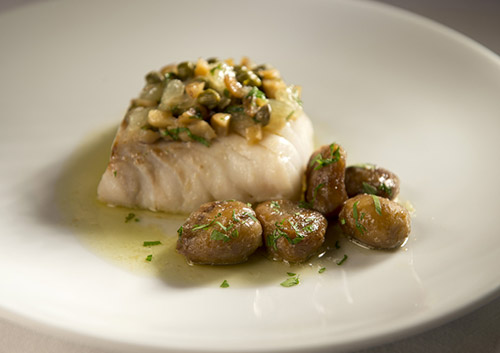 Fillet of cod, grenoble sauce with chestnuts
GRENOBLE SAUCE WITH CHESTNUTS
Bread s
Capers in vinegar
Bunch of parsley
Lemons
Cut the slices of bread into small dices, toast them under the grill in the oven. Drain the capers. Chop the parsley. Cut the rind off two lemons, without leaving any pith. Split into segments and cut them in three (put the juice to one side).
Cod fillets, skin removed
PONTHIER cooked chestnuts, roughly chopped
Lemon
Butter
Olive oil
Extra fine sea salt
Freshly ground pepper
Heat 5cl olive oil in a frying pan. Brown the cod fillets for 2 minutes on each side. Season with extra fine sea salt and freshly ground pepper. Add 25g butter and complete cooking in the oven, heated to 175°C, for 4 minutes. Remove the cod fillets from the frying pan and keep hot. Melt 125g butter in the frying pan. When it starts to turn brown add the PONTHIER cooked chestnuts and capers. Add the lemon juice to soak up the juices from the bottom of the pan, then add the pieces of lemon.
12 PONTHIER whole chestnuts
Place the cod fillets on plates, cover with Grenoble sauce and place the whole chestnuts on the side. Sprinkle with croutons and chopped parsley; pour the lemon butter over the top.