Home
The Creations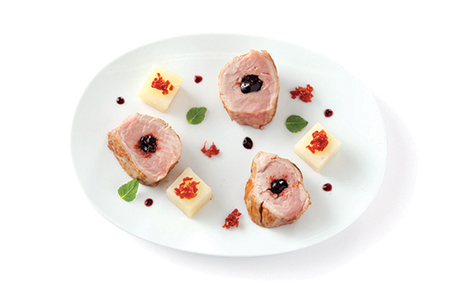 Pork tenderloin with a Basle black cherry centre
Prepared pork tenderloin
PONTHIER black cherry purée
Honey
Charlotte potatoes
Butter
Slice Bayonne ham
Olive oil
Salt
Espelette chilli pepper
½
100g
20g
100g
15g
1
SQ
SQ
SQ
Dry the slice of Bayonne ham in the oven for 10 minutes at 200°C. Leave to cool then blitz in the blender to a fine powder. Caramelise the honey then deglaze with PONTHIER black cherry purée. Reduce to a syrup then season with Espelette chilli.
Season the tenderloin with salt then fry in olive oil in a hot pan. Roast in the oven for 90 minutes at 80°C (until the centre reaches a temperature of 68°C). Once cooked, slice into 3 medallions. Make a hole in the centre of each medallion then add the black cherry purée. Keep warm.
Cut the potatoes into 1cm cubes then blanch. Drain and then candy them in butter. Arrange the pork medallions on the plate, then the potato cubes and sprinkle with the Bayonne ham powder. Garnish with a few touches of PONTHIER black cherry purée mixture with honey and Espelette chilli.
Assembly
PONTHIER black cherry purée can also be used for pork jus or gravy.