Home
The Creations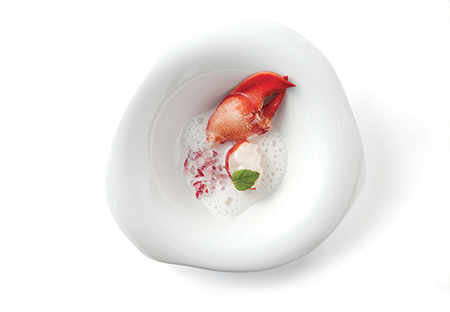 Coconut and ginger lobster with diced radish
Lobster
Pink radishes
Spring onion
Ginger
PONTHIER coconut purée
Shellfish stock
Water
A few Thai basil leaves
Olive oil
Salt
Pepper
5/600
60g
1
10g
60g
3cl
1cl
SQ
SQ
SQ
SQ
Cook the lobster claws in boiling water for 4 minutes and the lobster tail for 2 minutes. Refresh then shell. Clean the tail and cut it into 4 slices. Finely chop the spring onion and the ginger. Sweat the onion in olive oil, then add the ginger, stock, water and PONTHIER coconut purée. Reduce by a third then add one shelled claw and 2 slices of tail. Finish cooking over a very low heat for a few minutes. Season with salt and pepper.
Dice the radishes finely and place them in a soup plate. Add the claw and the 2 tail slices, then pour over the stock. Garnish with a few leaves of Thai basil.
Assembly
For a stronger flavor, add some PONTHIER coconut purée to the lobster cooking water.