Home
The Creations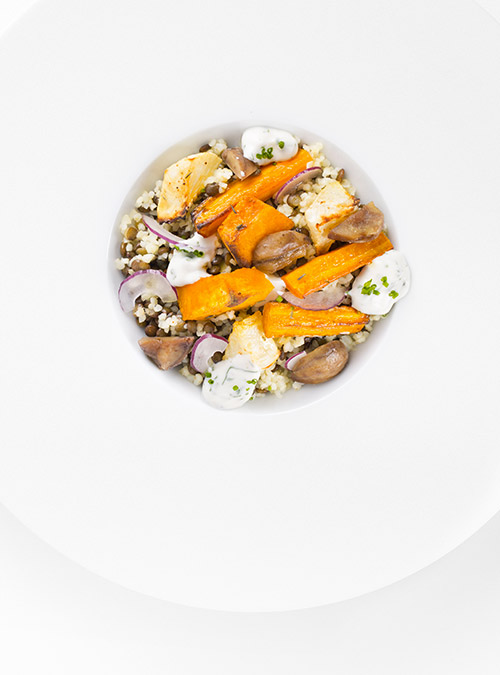 Lentils and bulgur with roasted chestnuts and vegetables
LENTILS AND BULGUR WITH ROASTED VEGETABLES
Red onion
Squash
Carrots
Jerusalem artichokes
PONTHIER cooked chestnuts
Green lentils
Bulgur
Olive oil
Thyme
Salt
Paprika
1
150g
100g
150g
150g
150g
150g
SQ
SQ
SQ
SQ
Preheat the oven to 200°C (gas mark 7). Peel the red onion, cut it in half and slice thinly. Peel the squash, carrots and Jerusalem artichokes and cut them into 3cm cubes. Cut the PONTHIER cooked chestnuts in half. Arrange the vegetables and chestnuts on a baking tray lined with baking paper. Add a drizzle of olive oil, thyme and season with salt and paprika. Mix the vegetables to coat evenly with the seasonings, then put them in the oven for about 15 minutes. Cook the lentils and bulgur as indicated on the packages, then mix them with a tablespoon of olive oil and the red onions. Adjust the seasoning, then add the roasted vegetables.
Limes
Full fat single cream
Bunch of fresh mint
Bunch of coriander
Bunch of chives
Salt
Pepper
Juice the limes and mix with the cream (this will thicken the cream). Season with salt and pepper. Remove the leaves from the mint and coriander and chop finely with the chives. Fold into the cream.
Arrange the lentils, bulgur and vegetables on the plates, then add the sauce.
This salad can be eaten both hot and cold. You can also prepare the sauce one hour beforehand.