Home
The Creations

Fingerfood & petits fours
PGI Menton Lemon (Crushed)
PGI Corsican Clementine (Crushed)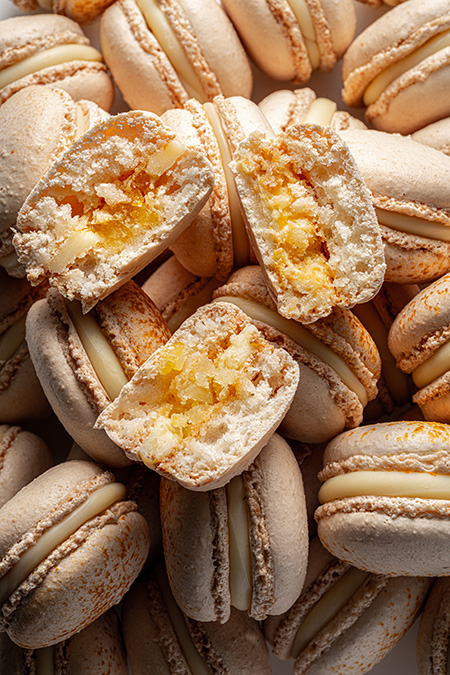 Citrus macarons
Philippe Urweiller
Pastry chef and chocolate maker
Liquid crème fraiche
White couverture chocolate
PONTHIER PGI Menton Lemon Crush
or PONTHIER PGI Corsican Clementine Crush
or PONTHIER 100% Yuzu Crush
Melt the couverture chocolate at 35/40°C in the microwave. Bring the cream to the boil, pour it over the melted couverture chocolate in three stages, stirring between each, and mix to obtain a homogeneous ganache. Turn out into in a stainless steel candissoire, cover with cling film and leave to crystallize at 15°C for about 8 hours.
White ground almonds
Confectioners' sugar
Mix the ground almonds with the sugar.
Tant-pour-tant almonds
Pasteurised egg whites
Caster sugar
Mineral water
Pasteurised egg whites
1000g
188g
500g
125g
188g
Mix the tant pour-tant almonds with the first weight of egg white. Heat the sugar and water to 118°C. When the sugar reaches 115°C, start the egg whites. Once the egg whites are stiff, turn the mixer down to speed 2 and pour over the heated sugar syrup. Leave to cool to about 50°C, then remove the bowl from the mixer. Fold the meringue into the tant pour-tant almond and raw white mixture. Knock back or «macaron» the mixture to prepare the batter. When piping with a macaron machine, a lightly knocked-back batter is preferable. When piping free hand, make sure the batter is well knocked-back.Using a piping bag fitted with a No.11 plain nozzle or a macaron machine, arrange macaroon shells of the desired size on a baking tray covered with a sheet of siliconised paper. Leave them to «crust» at room temperature for about 30 minutes. Bake in a fan oven at 165°C for 10 to 11 minutes with the door slightly open. Remove the sheets to a rack and allow to cool. Turn the macaron sheets over on the cooling rack to unstick the shells. Using a piping bag fitted with a No. 11 piping nozzle, fill the macaron shells with PONTHIER crush and white chocolate ganache. Cover with a second macaroon shell.
Store in negative cold: arrange the cooling racks in a refrigerator for 2 hours. Put the macarons in airtight tins, wrap the tins in cling film and put them in the freezer for 2 hours.
Store in the freezer at -18°C.
DEFROSTING BEFORE SERVING
Remove the tins from the freezer the night before and store them at 4°C without removing the cling film. After 18 hours in a cold room at 4°C, the macaroons are ready to be eaten.
If using a piping bag, allow the ganache to cool and add the PONTHIER crush before it is fully crystallised. Sprinkle the macaroon shells with PCB CREATION Yellow food colouring.