Home
The Creations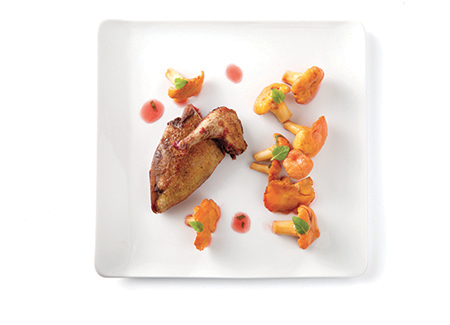 Pigeon with verbena and ruby peach
Pigeon
PONTHIER ruby peach purée
Fresh verbena
Chanterelles
Sherry vinegar
Butter
Olive oil
Salt
Pepper
½
100g + 50g
5g
100g
2cl
10g
SQ
SQ
SQ
Wash the Chanterelles. Bring 50g of PONTHIER ruby peach purée to the boil with the Sherry vinegar and then cover the Chanterelles with the liquid. Add half of the chopped fresh verbena, season with salt and pepper. Cover and leave to marinate in the fridge for at least one night.

Leave the breast on the bone.
In a hot frying pan, brown the breast and the leg in olive oil. Add butter, half the verbena and baste while frying. Add 100g PONTHIER ruby peach purée, baste the pigeon again then cook over a low heat for 10 minutes, regularly basting the leg and breast.
Remove the pigeon from the pan and bone the breast.

Arrange the breast, leg and the mushrooms on the plate then add a few touches of cooking juice.
Assembly
The Chanterelles can also be pan-fried and added to the pigeon cooking juices at the last minute.