Home
The Creations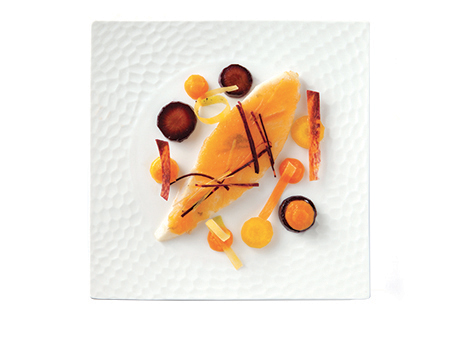 John Dory iced with Quercy melon, carrots
Carrots
Yellow carrot
Purple carrot
PONTHIER melon purée
Butter
Sugar
Water
Salt
Pepper
2
1
1
10g
20g
15g
SQ
SQ
SQ
Peel the carrots and cut them into large pieces. Place them in a saucepan with the PONTHIER melon purée, then fill with water. Once the carrots are cooked, blend them to a creamy purée then check the seasoning. Place the mixture in a piping bag and keep warm. Peel the purple and yellow carrots then from each one cut three slices 0.5cm thick.
Make shavings with the remaining carrots then cut half the shavings into matchsticks. Keep the shavings and the matchsticks separately in iced water. Cover the rounds of carrot separately with water and blanch with salt, sugar and butter. Keep warm.
John Dory fillet
PONTHIER melon purée
Olive oil
Salt
Pepper
Season the John Dory fillet with salt. In a frying pan, fry the fish skin side down in a little olive oil then turn the fish and carefully remove the skin. Cook the other side for about 2 minutes then remove to a baking sheet. Cover with the PONTHIER melon purée then grill under the salamander for around 5 minutes, basting it with the purée. Season with pepper. Arrange the carrot slices on the plate, then cover a few of them with purée. Add the shavings then the John Dory fillet in the middle of the plate. Sprinkle with the carrot matchsticks to finish.
Assembly
The PONTHIER melon purée will bolster the colour of the carrot purée.