Home
The Creations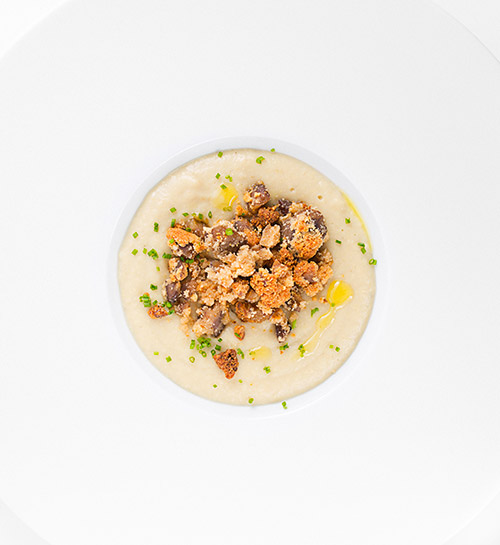 Velouté of parsnip with chestnuts
Parsnips
Shallots
Butter
PONTHIER cooked chestnuts
Full fat single cream
Water
Salt
Pepper
400g
2
50g
100g
10cl
SQ
SQ
SQ
Peel the parsnips and shallots. Cut the shallots into thin strips. Cut the parsnips into 1cm cubes and the PONTHIER cooked chestnuts in half. In a hot casserole dish, sweat the shallots with the butter and a pinch of salt. Cook for 3 minute, then add the parsnips and chestnuts. Add enough water to cover the parsnip, season with salt and pepper and cook over a medium heat for 20 minutes, stirring occasionally. Add the single cream, bring to the boil for about 1 minute and mix. Adjust the seasoning and set to one side.
Butter
Grated parmesan cheese
Breadcrumbs
Flour
PONTHIER cooked chestnuts
Preheat the oven to 180°C (gas mark 6). Cut the butter into small cubes. Put all ingredients except the chestnuts in a bowl and mix with your fingertips until you have a sandy texture. Quarter the chestnuts and incorporate them without breaking them up too much. Spread the crumble on a baking sheet lined with baking paper and bake in the oven for about 12 minutes until golden brown.
PONTHIER cooked chestnuts
Walnut oil
Cut the chestnuts into small pieces and arrange them at the bottom of soup plates. Pour over the parsnip cream and sprinkle with crumble. Add a few drops of walnut oil.
For the crumble, you can replace the parmesan cheese with ground hazelnuts or almonds. The crumble keeps very well in a tin stored in a dry place. It can also liven up your salads, pasta or soups.