Home
The Creations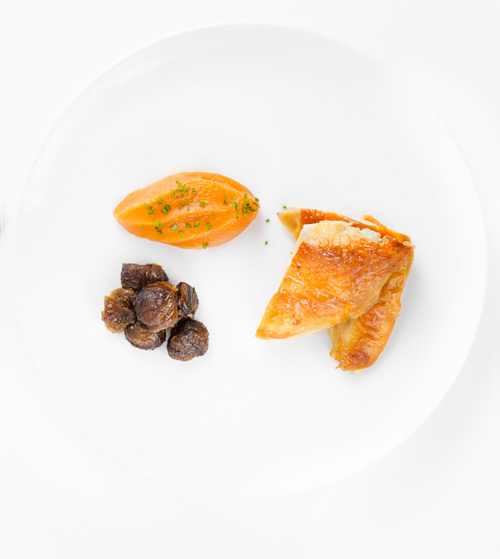 Roasted chicken with chestnuts, sweet potato purée with fresh herbs
SWEET POTATO PURÉE WITH FRESH HERBS
Bunch of chervil
Bunch of chives
Sweet potatoes
Potatoes
Butter
Milk
Coarse salt
Salt
Pepper
1/4
1/2
600g
100g
60g
10cl
SQ
SQ
SQ
Remove the leaves from the chervil and chop finely with the chives. Peel the sweet potatoes and potatoes and cut them into 3cm cubes. Rinse and place in a casserole dish. Cover with cold water and add a small handful of coarse salt. Simmer for about 20 minutes. Check that they are cooked with a knife tip. It should go easily into the flesh of the sweet potato. Drain and press through a potato ricer (or mash with a whisk). Add the milk and butter. Adjust the seasoning and incorporate the herbs. Set to one side.
ROASTED CHICKEN WITH CHESTNUTS
Free-range chicken
Cloves of garlic
Onions
PONTHIER cooked chestnuts
Butter
Sprigs of thyme
Olive oil
Salt
Pepper
1
2
2
200g
3
2 tbsp
SQ
SQ
Preheat the oven to 180°C (gas mark 6). Salt the chicken. Crush the garlic cloves with the flat of your hand. Peel and quarter the onions. Place the chicken in a casserole dish and drizzle with olive oil. Add the PONTHIER cooked chestnuts, butter, onions, garlic cloves and thyme. Put the casserole in the oven and cook for about an hour. Every 15 minutes, give the chicken a quarter turn and baste with the cooking juices. To check that the chicken is cooked, lift the chicken with a fork, rump down: the juices should be translucent.
Serve the chicken with sweet potato purée and the chestnuts cooked with the chicken. Drizzle with cooking jus.
You can crush a few chestnuts in the cooking jus to thicken it.
You can also use the cooking jus and a few pieces of the chestnuts cooked with the chicken to finish your sweet potato purée.